Republic Act No. 9013 (28 February 2001)
"An Act Establishing the Philippine Quality Award in order to Encourage Organizations in Both the Private and Public Sectors to attain Excellence in Quality in the Production and/or Delivery of their Goods and Services"
https://pqa.dti.gov.ph/republic-act.php
---
Executive Order No 605 (23 February 2017)
"Institutionalizing the Structure, Mechanisms and Standards to implement the Government Quality Management Program (GQMP)"
It directs all departments/agencies under the Executive Branch, including all government owned and or controlled corporations (GOCCs) and government financial institutions (GFls) to adopt International Standard ISO9001 Quality Management System (QMS) and pursue certification.

The goal of the GQMP is to strengthen institutional capacities of public sector organizations in delivering citizen-focused public services and in pertaining international standards-based quality management system.
https://www.officialgazette.gov.ph/2007/02/23/executive-order-no-605-s-2007/
---
DBM Circular Letter No. 2008-8 (23 October 2008)
National Guidelines on Internal Control Systems (NGICS)
The NGICS will serve as a guide to the heads of departments and agencies in designing, installing, implementing and monitoring their respective ICS taking into consideration the requirements of their organization and operations.

It can strengthen accountability, ensure ethical, economical, efficient and effective operations, improve the quality and quantity of outputs and outcomes and enable agencies to better respond to the requirements of the publics they serve.
https://www.dbm.gov.ph/wp-content/uploads/2012/03/CL-2008-8.pdf
---
DBM Circular Letter No 2011-05 (19 May 2011)
"Philippine Government Internal Audit (PGIAM)
Generic Module on Controls in QMS
https://www.dbm.gov.ph/wp-content/uploads/2012/03/CL-2011-5.pdf
---
GCG Circular No. 2013-02 (29 April 2013)
No. 6 letter e "Government Quality Management System Standards (GQMSS) pursuant to E.O. No. 605 s. 2007
Objectives of the Government Quality Management Program (GQMP). The Government Quality Management Program aims to:
1. Promote and enhance public sector performance through the adoption of ISO 9001:2000 Quality Management Systems in all agencies of government;
2. Develop an institutional infrastructure that shall provide certification with international accreditation;
3. Establish the citizens' charter of key government offices that shall be provided to the transacting public as government's manifestation of service guarantee;
4. Recognize citizen-driven government organizations that have attained ISO 9001:2000 certification for other government agencies to emulate.
https://www.gqmc.gov.ph/index.php/executive-order-no-605-s-2007
A quality management system (QMS) is defined as a formalized system that documents processes, procedures, and responsibilities for achieving quality policies and objectives. A QMS helps coordinate and direct an organization's activities to meet customer and regulatory requirements and improve its effectiveness and efficiency on a continuous basis.
ISO 9001:2015, the international standard specifying requirements for quality management systems, is the most prominent approach to quality management systems. While some use the term "QMS" to describe the ISO 9001 standard or the group of documents detailing the QMS, it actually refers to the entirety of the system. The documents only serve to describe the system.
---
QMS Documentation Structure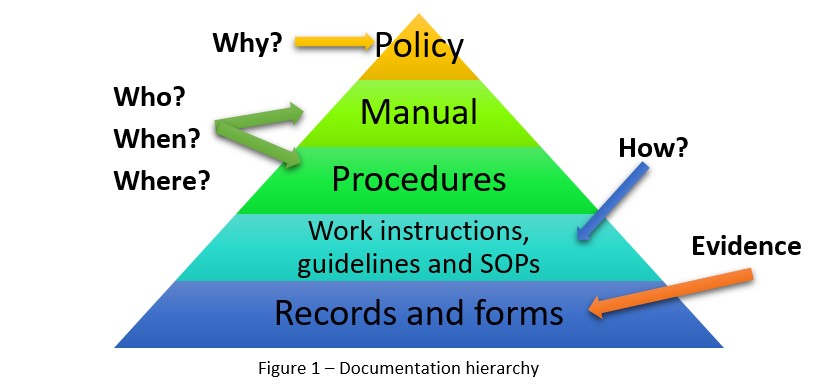 Source: https://advisera.com/wp-content/uploads//sites/11/2017/03/IATF-16949-Documentation-hierarchy.jpg
The QMS Core Team
(a) Serve as the steering and policy-making body for the GQMP;
(b) Approve the standards, guidelines and institutional mechanisms to implement the program;
(c) Coordinate in the formulation of standards and mechanisms to be adopted by the latter to ensure GQMS certification at the local level;
(d) Coordinate with specific departments and agencies to attend to, or address constraints in the implementation of relevant Program activities;
(e) Formulate necessary mechanisms to sustain the implementation of ISO-QMS among public sector organizations, including measures to fund the effort, as well as recognition/incentive schemes for Program participants;
(f) Monitor and evaluate the implementation of the GQMP and, when necessary, effect appropriate adjustments thereon in the light of changing conditions in both the domestic and international environments; and
(g) Submit progress reports to the President.